| | | | |
| --- | --- | --- | --- |
| Civil Society Wants Bigger Role in Green Climate Fund Planning | | | |
Thursday, 14 March 2013 11:51
Impacts include severe flooding, as the Caribbean island nation Dominica experienced in 2011. Credit: Desmond Brown/IPS.The Green Climate Fund is expected to channel some 100 billion dollars a year to help developing countries counter and adapt to climate change.
WASHINGTON, Mar 12 2013 (IPS) - As the new board of the United Nations Green Climate Fund meets in Berlin this week, activist and watchdog groups here and around the world are expressing frustration over proposed rules they say are already significantly limiting civil society participation in the new initiative.
Read more...
| | | | |
| --- | --- | --- | --- |
| The Green Climate Fund | | | |
Tuesday, 26 February 2013 17:33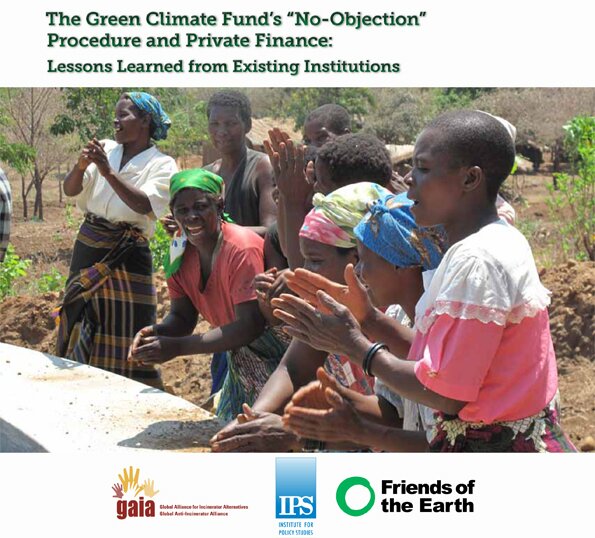 | | | | |
| --- | --- | --- | --- |
| Doha COP 18: Gateway to more climate injustice | | | |
Wednesday, 12 December 2012 13:57
Manila, Philippines, December 10, 2012
The recently concluded climate negotiations in Doha, Qatar, are being spun as having opened "a gateway to greater ambition and action on climate change". In reality they merely kept the Kyoto Protocol alive, just enough to be able to claim a multilateral framework for dealing with the climate crisis still exists. But this is a much-weakened multilateral framework that is full of loopholes and clearly inadequate to the task of preventing irreversible climate change. Crucially, it has failed to provide the immediate action needed to address climate change now. Instead, all the tough decisions that needed to be made to "raise ambition and action on climate change" have essentially been postponed to 2015 or beyond - for implementation in 2020 onwards. In other words, the world has been locked into another decade of official inaction in the face of a planetary emergency.
Read more...
| | | | |
| --- | --- | --- | --- |
| IBON International Climate Update 8 (Doha) | | | |
Friday, 07 December 2012 10:42
Doha, December 6, 2012
COP to be sidelined by High-Level Forum in 2014?
As COP18 slowly draws to a close, much doubt remains as to whether agreement on immediate and meaningful measures to tackle climate change will be reached. This impression has been hardened by unconfirmed reports that UN Secretary General Ban Ki Moon said on Wednesday that he may convene a High-Level Forum on Climate Change in 2014. Such a forum could engage urgent issues at the highest political level, likely to be heads of state. While welcomed by major developed countries, this would take the momentum away from the COP process with ministers reluctant to make commitments in advance of 2014, and instead shift it to an arena in which developing countries are weaker as a negotiating bloc.
Read more...
| | | | |
| --- | --- | --- | --- |
| Philippines super typhoon underscores need for meaningful and decisive outcome at climate talks | | | |
Friday, 07 December 2012 10:27
More than 41,000 people have been displaced in the past two days from the impact of super typhoon Pablo (international code name: Bopha, Category 5) in the southern Philippines – meanwhile developed countries at COP18 continue to stall negotiations on reducing emissions that worsen extreme weather events and funding for developing countries to adapt to climate change.
The human impact of the strongest typhoon to hit the Philippines this year has been devastating. Wind gusts of up to 195 kph (121 mph) have destroyed homes, power and communication lines, and led to mass evacuations in Mindanao. More than 155,000 people remained in temporary shelters late on Tuesday.
IBON International calls on the world's leaders to show genuine solidarity not just to the Philippines, but also to poor people from other developing countries who are on the frontlines of the impacts of climate change by committing to deep and drastic emissions cuts, and substantial climate finance commitments.
Read more...
| | | | |
| --- | --- | --- | --- |
| IBON International Climate Update 7 (Doha) | | | |
Friday, 07 December 2012 10:19
Doha, December 3, 2012
Studies confirm that loss and damage associated with the adverse effects of climate change can no longer be avoided throughmitigation or adaptation. Multiple approaches should be undertaken, with some approaches having synergies with adaptation efforts, but with others requiring taking action through new arrangements and stand-alone approaches, which could be referred to as 'beyond adaptation' measures.
Following a proposal by the Alliance of SmallIsland States (AOSIS) in 2008, loss and damage was included on the agenda of the UNFCCC negotiations. The COP 16 in Cancun decided to establish a Work Program to address issues related to loss and damage in developing countries in a more comprehensive and actionable manner, with a mandate for the Subsidiary Body of Implementation (SBI) to do this. The draft decision adopted by COP 17 takesinto account the following thematic areas to enhance understanding of and expertise on loss and damage: (1) assessing the risk of loss and damage associated with the adverse effects of climate change and current knowledge; (2) a range of approaches to address this, including impacts related to extreme weather events and slow onset events; and (c) the role of the Convention inenhancing the implementation of approaches to address loss and damage.
Read more...
Page 1 of 25